We inherited a large bundle of pipecleaners from Granny this summer. After making our
sparkly flower rings and our flower pencil toppers
, I've been browsing
Pinterest
for other ideas for using pipecleaners.
Here's my 'round-up' of pipecleaner play/craft ideas. I don't know when I'll get around to trying them all, so I thought I'd share the ideas at least with you. Will let you know how it goes with them.
Making letters with Pipe Cleaners by Make and Takes
This would be great for Princess Pea as she's keen to learn all the letters now that she's four.
Pipe Cleaner Chameleons by Lines Across My Face
How cute is this little guy?

Aimee Herring

Jolly Elves by Parent.com
A great idea for Christmas gifts. Will try to do these for sure, maybe for Princess Pea's preschool teachers.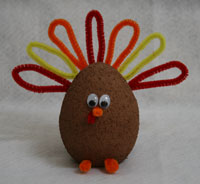 Styrofoam Turkey Craft by All Kids Network.com
Super-cute craft for Thanksgiving!
Pipe Cleaner Colour Matching Fine Motor Toy by Fun and Engaging Activities for Toddlers
I just LOVE this idea! I've had it 'pinned' for a while, waiting for Sweet Pea to be big enough for it. I think she is now.
Don't they all look fun? If you try any of them, please let me know and/or link up your post in the comments below if you blog it.
PS - Come
join me on Pinterest
! (If you need an invitation, let me know and I'll be happy to send you one.)