Like Mama Pea Pod for birthday party ideas? Please consider throwing a vote our way in the Red Tricycle Most Awesome awards for Birthday Party Ideas! Thanks so much! x

Looking for ideas for kids' party themes that are actually 'do-able' by REAL parents? Look no further!

Coming soon: As part of the Kid Blogger Network's ABCs of ... Series, I've compiled an extensive list of fun Kids' Party Ideas from A-Z! All of the parties linked here were thrown by real parents with varying degrees of 'craftiness' and time on their hands - parents just like you and me (in fact, some of these parties were thrown by me!)
Because there are SO MANY brilliant party ideas to share, I've organized them over 5 posts as follows:
When all of the posts are live, I will link them all up here, so bookmark or pin this page as your overall party ideas reference list.

You can also find more ideas, cakes, and party throwing tips on my Parties Pinterest board. And while you're busy planning all your fabulous party ideas, be sure to print out these free printable party planning lists from Delicate Construction!

There are over 70 bloggers participating in the KBN's ABCs of Series, sharing all sorts of topics related to kids. There are sure to be some super resources there that you will want to save for future reference. You might want to start with the rest of the 'Mama Tips and Tricks' category below, or you may want to browse through the entire series.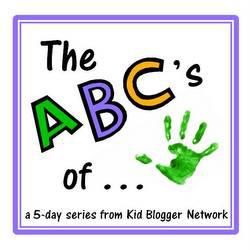 MAMA TIPS & TRICKS - The ABCs of ...